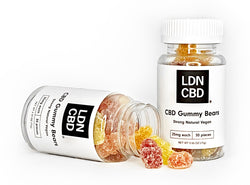 We all need a little support sometimes, as do our bodies. Be kind to the mind and body that keep you going while delighting your tastebuds with delicious LDN CBD Gummy Bears.
Our all-natural gummy bears are formulated with CBD isolate from Certified Organic hemp, extracted and purified without the use of any harsh solvents or chemicals. Grown on over 500 acres of USDA-certified organic land in Colorado, LDN CBD cultivators put painstaking detail into propagating unique strains of hemp with an optimal phytochemical composition. We carry that care and commitment to quality throughout every stage of our product development process – Because when it comes to your wellness, we at LDN CBD believe you deserve the bear-y best!  
Vegan and free of corn syrup, soy, gluten and GMOs, LDN CBD Gummy Bears are made with naturally delicious ingredients like organic pear, black carrot, currant, blueberry and turmeric. Each sugar cane crystal-coated bite will have you wishing all therapies were such a delight!    
Plus, our THC-free* formula is an ideal option for concerned users who still want to experience all of the benefits of CBD, including healthcare workers, first responders and teachers. 
We use all of our products ourselves, which is why we recommend them ♥
* THC content below limit of detection threshold of 0.01 mg/g.
The FDA has not evaluated this product for safety or efficacy. This product is not intended to diagnose, treat, cure or prevent any disease.
Eat one or two gummy bears as needed.
When you first start taking CBD we recommend you trial it over a period of 1-2 weeks, steadily increasing your dosage until you find the balance that works for your body.
CBD is non-psychotropic, so it won't get you high, but it is psychoactive, so you could feel a difference in your mood. For this reason, we always recommend you start low and go slow then adjust your dosage to suit your needs.

Due to the organic nature of our products and the size of our batch formulations the percentage of cannabinoids can vary a little from the amount written on the label. If there is a variance we always try to make sure it's a bit over because we understand that kind of thing is appreciated.

This is our current batch at 25.95mg CBD per gummy, you can view the lab certificate here: GUM-15022-B1
Gummy Bear [Organic Tapioca Syrup, Organic Cane Sugar, Organic Tapioca Syrup Solids, Organic Pear Juice Concentrate, Citrus Pectin, Citric Acid, Sodium Citrate, Natural Flavors, Potassium Citrate, Colored with Extracts (Organic Black Carrot, Organic Black Currant, Organic Turmeric, Carrot, Blueberry, Organic Annatto)], Hemp Cannabidiol (CBD) Isolate.
---
This product is a food supplement and is not intended to diagnose, treat, cure or prevent any disease. Always consult a medical professional before taking food supplements.
Store in a cool, dry place, out of direct sunlight and out of the reach of children.
---
LDN CBD deliver to all 50 states in the USA. Please look at our UK site www.ldncbd.com  for any LDN CBD products that deliver within the UK and Europe. Or contact our team directly for any international wholesale requests.  
Thank you for all the support.